A Perfect Fox & Friends TV Segment
that Helped My Book Reach 41 Out of
Over 1.8 million books on Amazon
Hi. Jason here.

I want to share with you a quick case study of a TV appearance I did on Fox & Friends.

I was able to sell 3 different products during this segment and make a whole lot of money.

Here's the segment. It's short.

Only 2 minutes and 52 seconds long.

​So, what did you think?

My clients in the Celebrity Method know the main point of going on TV is to make money.

In other words, you will never do a segment without selling something.

In the clip you just watched, I was able to sell 3 different items in less than 3 minutes.

First, I was able to sell my book.

Fox & Friends featured the book at the beginning of the segment and mentioned it throughout.

This helped sell a boatload of copies and I even hit #41 on ALL of Amazon that day.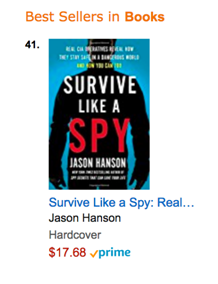 Next, I was able to sell my Escape & Evasion Gun Belt, which has hidden compartments in it.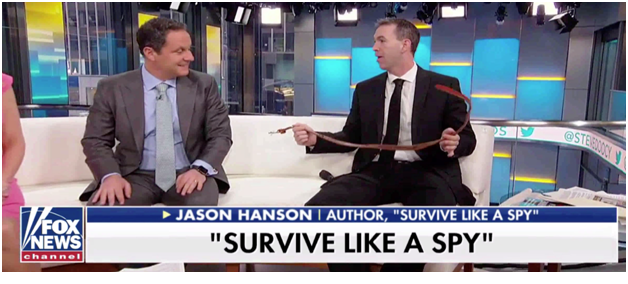 I was able to show the belt on TV, which is essentially a free infomercial I can use over and over.

In fact, here's an email subject line to sell the belt:

The Gun Belt Seen on Fox & Friends

Third, I was able to sell my Tactical Pen and even give out the URL to my Tactical Pen website.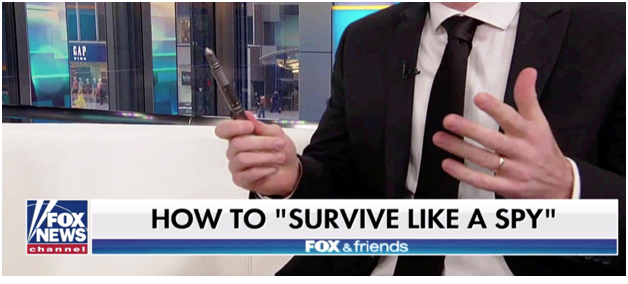 And, guess what?

Being able to sell those items, all in less than 3 minutes, was not an accident.

The fact is, I crafted the segment ahead of time to make it both media friendly AND highly profitable.

You see, before you go on TV, you get to send the producers talking points.

And, my goal that day was to sell my book…

But, it was also to sell some of my travel products, which is why I created this segment about items you need to take with you when traveling.

What's more...

During the segment, you see me talk with confidence in short sound bites so I'm able to make more money off of a 3-minute TV appearance than most people make all month.

And, because knowing how to prepare and execute a TV segment is so crucial…

I want to invite you to participate in my 30-Day Media Training Intensive.

During this 30-Day Media Training you get the following…

  To work with me one-on-one. I never hand you off to one of my instructors and we work together to craft the perfect TV segment for you.
  You'll rehearse the segment with me on video and we'll fine tune it until you're a well-oiled machine that will make a killing during your appearances.
​  How to develop unshakable self-confidence on TV and how to look natural and comfortable the entire time.

​  How to speak in sound bites so you can quickly sell your product and also get invited back for future segments.

​  How to answer a host's questions in a skillful manner so that you don't come off boring or even rude.

​  How to fully understand the rules of working with producers during a segment so you're allowed to sell and make as much money as possible.
  H​ow to create killer demonstrations and impact so there's not a dull moment during your time on air.
  Body language secrets for TV so you come off sincere and authentic during your appearance.
  How to develop irresistible topics that producers will love to feature.
  And much, much more.
Even better, once we've perfected your segment and you've rehearsed it for me, I will even help you get your first TV appearance.

But, here's the thing…

This training is certainly not for everyone.

I want you to be deadly serious about making a ton of money off of TV.

After all, I'm investing my valuable time to help turn you into a media pro and to help you develop a skill that will make you money for the rest of your life.

Also, this 30-Day Media Training Intensive isn't cheap.

But, the smart entrepreneur knows it's an investment that will more than pay for itself after just one TV appearance.

The cost to work with me one-on-one during the 30 days is $2,497.

I know over time you'll easily make back 20 times your investment, but don't take my word for it.

If for any reason (or no reason at all) you don't think the 30-Day Media Training Intensive was worth every penny, I'll give you a prompt and courteous 100% refund.

That's more than fair, right?

That's because I know this 30-Day Media Training Intensive will change your life, help you become a celebrity, and give you a money-making skill that nobody can ever take away from you.

So, if you think you have what it takes, click on the yellow button below and you and I will get started on transforming your business and your life.